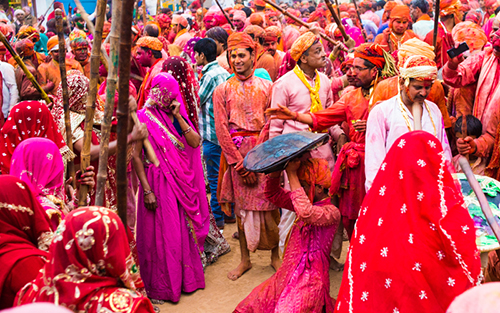 Unique Aspects of Lathmar Holi and Holi Celebration in Barsana of India
Holi, known popularly as the festival of varying colors has always remained popular among Indian people and celebrated across the country since last thousands of years. This year also, Indian people will celebrate Holi on 2nd of March 2018 i.e. Thursday with Dahan of Holika and saving Prahlad preceding the festival on 1st of March night.
Holi in Barsana of India
While the celebration of Holi festival takes place in every region and city of India, Holi celebration in Barsana has remained famous since last many years. This is because; Barsana is a historical area covering a huge area of Vrindavan, Mathura and other nearby areas.
Here, the festival entices worldwide pilgrims and tourists in the name of Mathura Vrindavan Holi, while it has many special traditions and customs. Mathura is popular as the birthplace of the deity Lord Krishna and Vrindavan serves the place, where Gopala (Lord Krishna as a small boy) grew up during his childhood.
Krishna during his young age cribbed in front of his mother Yashoda about fairness of Radha, while he had a dark complexion. On listening this, Yashoda suggested Krishna to color Radha with varying colors in a playful way. Over the years, Lord Krishna thus travels from Nandgaon, his own village to Barsana, where Radha stays. This leads to the evolution of a new tradition i.e. Barsana Holi, in which Krishna colored Radha and other Gopis (her friends). On the other side, Radha and other girls playfully beat Krishna with sticks.
If you follow Hindi calendar dates and days, you will likely come to know that Holi in Barsana, also popularly known as Mathura Holi begins just before one week of the actual date for the Holi festival. Barsana is a nearby village of Mathura and native place of Radha. Since many years, the place has remained famous for Lathmar Holi, where women playfully beat women with the sticks. On the other side, men use shields to protect them as much as they are able to do so. Lathmar holi in Barsana would be celebrated on February 24th 2018.
Lastly, if you give your time to know unique aspects of Vrindavan Holi, you will likely come to know about the famous Banke Bihari Temple of Vrindavan known popularly for the celebration of Phoolon wali Holi on 11th day i.e. Ekadashi before the actual date of Holi. According to this festival, temple gates opened at about 4pm in the evening, while priests throw flowers at their devotees.