Brajbhoomi Language & Culture
Braj Bhasha… Language of Brajbhoomi
Apart from Hindi, Braj Bhasha language, a western dialect of Hindi, is commonly spoken in Mathura. The language in its purest forms can also be heard in Agra, Etah, and Aligarh. Mathura being close to Haryana and Punjab, Haryanvi and Punjabi are also spoken by some people.
Charkula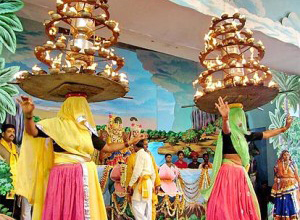 Charkula is a folk dance where a woman balances small earthen lamps, placed on a wooden plank, on her head, while dancing on traditional songs. The number of lamps can go up to 108 at times. The dancer with her face veiled, moves with swift, graceful movements while balancing a weight of 40-50 kilograms. A dramatic dance that is visually attractive, it is mostly performed on the eve of Holi festival.
---
Raaslila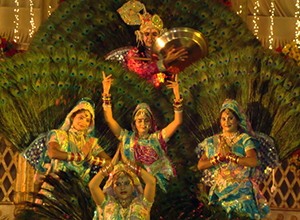 It is the famous theatre and the dance form of Indian folk. It is believed that Lord Krishna danced with Gopis on the bank of the Yamuna. Raaslila is a dance form of Krishna's childhood. The charming childhood pranks of Shri Krishna constitute the main theme of these dance/drama acts.
---
Sanjhee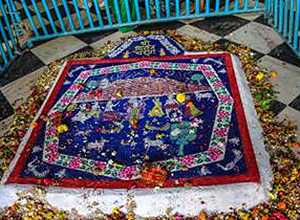 Mathura's culture is deeply associated with Lord Krishna & Radha. The whole land seems to tell the story of Lord Krishna's life. You will experience people's devotion in many ways inculcated in their daily life.
---
Huranga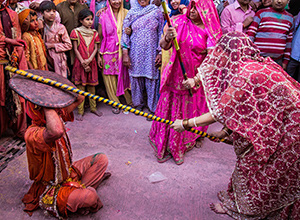 It is a custom performed during the Holi Festival celebrated at Baldev Dauji temple in Mahtura. Women pour buckets of coloured water on men. The men are also thrashed with whips made of cloth, which had been torn apart from their own clothing. They cannot touch women or unveil female faces.